Local Germany Phone Numbers
---
Berlin, Hamburg, Munich, Cologne, Frankfurt among others - $2.95 per month*
---
We cover around 170 different local German prefixes
The Germans do everything well, the numbers coming out of there are no exception
Make and receive calls with VoIP or just forward the calls to a regular phone number
Multiple Options: Smartphone | Regular phone number | SIP | Asterisk
If you need a business phone system with Germany, we have you covered
At the moment our German numbers do not come with SMS functionality
Germany is one of our more strict countries, you'll need proof of address in the German city you want a number
---
---
3 core options with every Germany phone number
---
These settings can be changed anytime via your FlyNumber panel
1. Forward the Germany FlyNumber to any regular phone number
Core FlyNumber feature and can be updated via your panel on the "fly" (pun intended)
No PBX or phone system involved when using this option
Anytime our system needs to send calls to a regular phone number, there is a low per min rate
2. Use the FlyNumber with our hosted pbx-phone system
This is optional. You can always go back to one of the other core options other (1. Regular Phone or 3. Voip/SIP)
It's $14.95 a month + the price of the Germany phone number (shown top of page)
If you forward to a reg. phone number and/or make outgoing calls - a per min rate applies
IVR/Voice Menu | Record Calls | On-Hold/Queue | Time-based routing | SIP Accounts | Voicemail and more
Within the PBX, core features (1. and 3.) are expanded to a great degree
Use the PBX to make outgoing calls with your virtual phone number
3. Set the Germany virtual phone number directly to VoIP
Core FlyNumber feature - set the Germany phone number to any SIP address (URI/host)
PBX not involved | Update settings instantly | Detailed logs (including failed attempts)
Using the SIP protocal (VoIP) might be the most effecnent way of answering calls, it would involve the fewset amount of "hops"
Your Germany FlyNumber can be used with 3CX | Asterisk | FreePBX | FreeSwitch among other VoIP solution
There are no additional charges when receiving calls this way - Unlimited incoming minutes
Set your Germany DID phone number to one of our "easy setup" voip providers
Every FlyNumber comes with 2 incoming channels (with the ability to purchase more soon)
---
---
Recent blog posts
---
One of the standout features of our cloud phone system is the ability to edit the caller-ID for the phone receiving the FlyNumber calls (only when using VoIP). This comes in handy when you need to distinguish between calls coming in from different phone numbers. Imagine having a UK, Canada, and US FlyNumber ringing directly […]
In honor of 404 Atlanta day I thought it would be a neat idea to share a rundown of the ATL and it's well known 404 area code. It might come as a surprise to some but there's actually "404 day" in Atlanta, on you guessed it, the 4th of April. The event has been […]
Here's a quick overview of the FlyNumber logs and possible responses, this isn't an exhaustive list but many of the responses are pretty self-explanatory. The logs are broken down into 2 main sections. 1. The core FlyNumber logs All incoming calls will always show up here, regardless of the forwarding or if you're using our […]
---
Not sure how the service works?
---
Use cases for a German virtual phone number
Whether you're a tech start-up from Munich or a financial services company from Berlin - An authentic German phone number for your business
Businesses in Germany who may need a keypress menu( IVR) for callers - For Example:
Fast food | Restaurant that takes reservations | Dentist office | Investment fund | Start-up
Are you involved in German real estate? Get multiple phone numbers and use them on on your advertising
Post on Ebay Kleinanzeigen ? - Buy a German FlyNumber so you can stay "local" and remain anonymous at the same time
Stay in touch with family and friends - Get a German number local to them and that'll be the number they can always reach you on
Add a privacy layer to your online presence - instead of your current German mobile/landline, use a FlyNumber ( ie: forms, site registration, etc. )
German expats looking to stay in touch with family and friends while abroad
Looking for a Job in Germany but living in a different country? - Get a German FlyNumber to make things easier ( You'll need to register the number under someone you know there , docs req'd.)
Keep you current Germany mobile calls active while abroad - Right before you travel, set the call forwarding on your mobile phone to the German FlyNumber. Now, on the FlyNumber site you can set the calls to ring to any device anywhere.
---
Technical info on German phone numbers
---
Germany uses a variable-length numbering plan for its telephone numbers, which can range from 3 to 11 digits (including the area code). The phone numbering system in Germany is regulated by the Federal Network Agency (Bundesnetzagentur).
Country Code: The country code for Germany is +49 or 0049 when dialed internationally.
Area Codes: Area codes in Germany (Vorwahl) are 2 to 5 digits long, excluding the initial '0' when dialing from abroad. The length of the area code depends on the size of the city or region. Generally, larger cities have shorter area codes, while smaller towns have longer ones.
Local Numbers: The local phone number (Rufnummer) can be 3 to 9 digits long, depending on the area code's length. The total number of digits (area code + local number) usually ranges from 7 to 11, excluding the country code.
Leading '0': When dialing a German number within the country, you must use the leading '0' followed by the area code and the local number (e.g., 030 for Berlin, followed by the local number). However, if you are dialing from outside Germany, you should omit the leading '0' and use the country code (e.g., +49 30 for Berlin).
Mobile Numbers: Mobile numbers in Germany typically start with a 4-digit area code beginning with '015', '016', or '017', followed by a 7- or 8-digit local number. When dialing a German mobile number from abroad, you should use the country code (+49) and omit the leading '0' (e.g., +49 15x xxxxxxx or +49 16x xxxxxxx).
Non-geographic Numbers: Germany also uses non-geographic numbers for various services, such as toll-free (0800), premium-rate (0900), shared-cost (0180), and personal numbering (0700).
---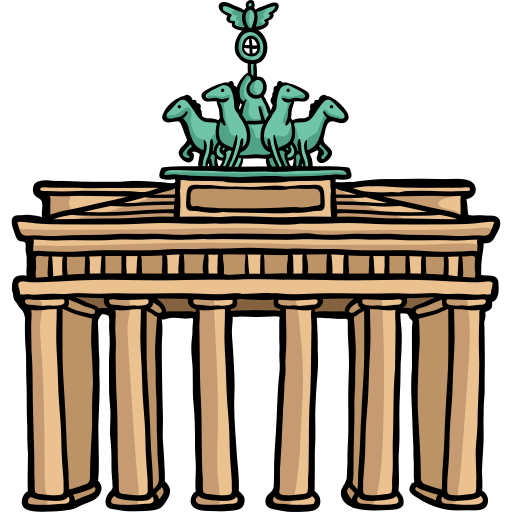 The history behind German phone numbers
---
Early beginnings (late 19th century): Telephone services in Germany began in the late 1800s with the founding of multiple private telephone companies. Each company had its own numbering plan, which led to a fragmented and inconsistent system.
Weimar Republic (1919-1933): During the Weimar Republic, the organization and regulation of the telephone system improved. The Reichspostzentralamt (National Postal Central Office) took control of the telephone network and worked to standardize the numbering system.
Nazi Germany (1933-1945): The telephone system was further centralized and expanded during the Nazi era. The government-controlled Deutsche Reichspost established a nationwide numbering plan, with area codes assigned to various regions and cities.
Divided Germany (1949-1990): After World War II, Germany was divided into two separate states: the Federal Republic of Germany (West Germany) and the German Democratic Republic (East Germany). Each state had its own telephone network and numbering system. West Germany adopted a system with two- to five-digit area codes followed by local numbers, while East Germany used a similar system with three- to four-digit area codes.
Reunification (1990): With the reunification of Germany, the two telephone networks were merged. The existing West German numbering system was expanded to cover the entire country, and new area codes were assigned to former East German cities.
Deregulation and expansion (1990s-2000s): The telecommunications market in Germany was deregulated in the late 1990s, allowing for increased competition and innovation. This led to the creation of new services like mobile phones and VoIP, which required new numbering plans. In 1998, a closed numbering plan was introduced with a fixed length of numbers, including the area code and local number.
Current system: Today, Germany uses a geographic numbering system with area codes that vary in length from two to five digits (not including the trunk prefix '0'). The total length of a phone number, including the area code, is usually 10 or 11 digits.
---
Entrepreneurs
Wasn't the internet supposed to make phone calls more affordable?
FlyNumber works great if you just launched a start-up and you're on a shoestring budget
Is your business already off the ground but you'd rather not spend hundreds of dollars a month on phone service?
We come from a "mom and pop" type background, rooted in the international diversity that is NYC. We understand business.
Buy multiple international local phone numbers and manage them all from your FlyNumber account
Family and friends
Stay in touch with family and friends by giving them a phone number "local to them"
For example you have friends or family in the U.S. but now live elsewhere, you can give them a US FlyNumber that forwards directly to your smartphone
Great for expats that want to stay in touch with friends and family from their hometown
Give family members who aren't tech savvy an easy way to reach you no matter where you are
Grandma or Grandpa would love a simple local phone number they can dial that connects them to their loved ones
---
Why choose FlyNumber?
You "own" the Germany phone number, you can port out if necessary
No obligations | Cancel anytime | Never any hidden fee's | No contracts
You're billed based on the phone number, not users or agents
Detailed call logs that you can export to CSV, we don't retain the logs past a certain point
Logs include multiple responses - Ok (connected), declined, timeout, internal server error, request terminated and more
Set a credit card/Paypal for recurring billing or add funds manually to your prepaid balance
Easily add multiple phone numbers to your account
Starting at $2.95 a month for U.S numbers as well as Canada, the U.K. and others
Sign Up Now
---
Use us if you need multiple local numbers: All the countries we cover
* If you use an app (ie VoIP), it's unlimited incoming using this method.