Remember those sheets of grid paper they used to hand out in elementary school, the ones you'd use for geometry or to draw graphs.
I personally was always attracted to grids, so anytime I got to use them, for example- in school or other places , I was always delighted. Then, around 2012 we released the first version of the phone system, it had a true grid canvas while right now it's technically a "dot grid".

The fluidity of the grid and how it connects with modules will put your mind at ease when setting up your call logic ( Sometimes a scary and daunting task) A company with 15 agents or an entrepreneur just setting up a new business – your call logic will differ.

Could you imagine trying to set all this up with drop down menus, and check boxes?

-Nader Jaber
So instead of thinking of all the settings a business or user may want, the engineers instead built customizable modules that can be moved around anywhere on an open canvas. Everything is connected with flexible cables.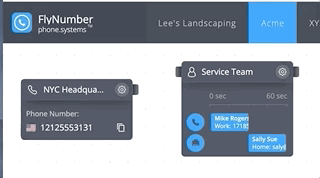 The grid itself invites creativity, you open up your panel and the first thing you see is a nice, clean, fresh grid ready for creating. The changes are live, meaning if you attach your Brazil number [module] to the voicemail module- it will work right away. You may also find yourself making more and more customizations as time goes on, especially since new features are being added constantly. Who would have thought you'd want to route calls based on an area code?
Many of course know exactly what they're doing, they set up their call flow and forget it. If they need to make any changes they can do it anytime on any device.

No apps or special software to download either. The grid works right in your browser and is accessible via any smartphone, tablet, or desktop. (HTML 5 based)

It's always interesting to see how users and companies set up their call flow, we're always encountering users with a unique call logic we've never seen before. Proof that if you give users the proper tools, they'll always surprise you with their cool problem-solving. The visual is key, It's just easier (and IMO more fun) to move modules around and connect them with cables than it is to create a call flow using dropdown menus and tick boxes.

It's one of those things you never really think of but setting up a call menu 20 years ago would have cost thousands of dollars and taken days if not weeks to set up. Now you can do it during the time it takes to drink a cup of coffee.

How it works

You basically have modules, each with a specific role. Things like ring group, voicemail, IVR menu, and time-based routing, among others. All connect with draggable "cables" you create on the grid. The grid is sort of a digital canvas for you to move and connect these modules as you see fit.

The modules will have prongs coming out of either side of them. If there's only 1, it would indicate the module will end the call flow -for example, a voicemail module. A caller menu would have 2 prongs, to the left could be phone calls from one of your FlyNumbers or even a previous menu. On the other side, you can have it go to another menu, a ring group, VM, or somewhere else depending on what key the caller presses. ( Press 1 for sales, 2 for support, 3 for VM, and so on and so on)
The below image is the time-based module. An example of how you'd use this would be to attach a "phone number" module to the left, and then to the right, a cable to your mobile phone (green prong), and another cable to the voicemail module (red prong). Using this example the calls would go to voicemail on the weekends.

The grid takes many by surprise, everyone is accustomed to menus, tick boxes, and drop-downs when "configuring" anything on the internet – the open canvas is somewhat refreshing. Some who were only interested in 1 menu and a voicemail end up with a much more complex setup, routing calls based on time or perhaps the caller-ID for example.

TLDR: Using an [digital] open canvas to configure a company's (or individuals') call logic is simple and easy. (compared to the alternatives)
image credit goes to Kelly