Local U.S. Virtual Phone Numbers
---
Use any device/software or forward to a regular phone number - $2.95*
---
Thousands of local US cities to choose from
NYC | San Francisco | Boston | Miami | Houston among many others
Unlimited incoming via VoIP | Use the US number as the outgoing Caller-ID
Optional phone system to manage calls ( IVR/Menu, Time-based routing, voicemail etc.)
Send calls to multiple places - Smartphone| Regular phone number | VoIP | SIP
Your phone number will provide crystal clear call quality (subject to your internet/device/software)
Buy local phone numbers in bulk and manage them via your panel | Works great if you're a marketer
No hidden fee's | Cancel anytime | You own the phone number
All U.S. numbers come with incoming SMS/text. We'll email you the texts as they come in
* Excluding NYC 212/718/Toll-free and only when you answer with VoIP (call forwarding to a regular phone number has a low per min rate)
---
Use cases for a US virtual phone number
If you're like the majority of our users, you have an online business based in the US and want a phone number for the company (sales, support number etc.)
Do you sell leads in Detroit? Run political campaigns in DC? - Manage and track bulk phone numbers easily
Concerned about privacy? - Buy a US FlyNumber as a "2nd " phone line for non-personal calls you'd like to separate
Family and friends you'd like to stay in touch with - Give them a local US number and route the calls as you please
If you're a dentist office in Atlanta and need callers to hear a menu or a pizza shop in Brooklyn that needs the calls answered immediately - we can help
Budget entrepreneurs looking to just "have a phone number" for their contact us page
Get a US phone number even if you're outside the states - Some Examples:
- Perhaps you're looking for a job and want a local number for recruiters and companies
- If you're moving to the US and need to stay in touch with your real estate broker
- You have clients or customers in the US and want to make it easier to stay in touch with them-incoming / outgoing calls using the US line
---
Core features with every USA virtual phone number
At it's core you'll always have 3 options with a US FlyNumber:
1.) Forward US FlyNumber calls to any mobile or landline in the world (a regular phone number/PSTN)
Core feature - Change the phone number where you want to send the calls to via the FlyNumber panel
No phone system involved when using direct phone number forwarding
Anytime the system sends calls to a phone number, there is a low per min rate
2.) Cloud Phone System
You'll have the option of using the phone system with your US number ( incoming/outgoing calls )
Keypress Menu | Call Record | On-hold | Time/CLI-based routing | SIP Accounts | Voicemail | and more
Within the phone system itself, core features (1. and 3.) are significantly more advanced
Use the phone system to make outgoing calls [ Detailed guide ] with your US virtual number as the Caller-ID
3.) Set incoming U.S. phone number calls to SIP
Core feature - set the US FlyNumber to any SIP (URI/host)
Phone system not involved | Update settings via panel | Logs (OK and failed calls)
Set the US DID number to your own solution - Elastix | 3CX | Asterisk | FreePBX | FreeSwitch | OpenSips, among others
There are no additional charges when receiving calls this way - $2.95 and unlimited incoming minutes
Side Note: US numbers will automatically forward SMS/text to an email address (Short code SMS not guaranteed)
---
Technical info on US phone numbers
---
U.S. phone numbers are based on the North American Numbering Plan (NANP), which is a system used to route telephone calls within the United States, Canada, and other participating countries and territories. The NANP is an integrated numbering system that allows for direct dialing of long-distance calls within the region.
A typical U.S. phone number consists of 10 digits, formatted as follows: (NXX) NXX-XXXX
Area code (NXX):
The first three digits represent the area code, which is assigned to a specific geographic region within the country. The area code helps to route calls within the public switched telephone network (PSTN) to the correct local exchange carrier (LEC) serving the region.
The first digit (N) can be any digit from 2 to 9
The second and third digits (X) can be any digit from 0 to 9
Central office (exchange) code (NXX):
The next three digits represent the central office code or exchange code, which corresponds to a particular local telephone exchange within the area code's region. The exchange code helps further route the call to the appropriate local telephone exchange.
The first digit (N) can be any digit from 2 to 9
The second and third digits (X) can be any digit from 0 to 9
Line number (XXXX):
The last four digits represent the subscriber's unique line number within the telephone exchange. This is the specific telephone number assigned to a customer.
Each of the four digits (X) can be any digit from 0 to 9
In addition to the 10-digit format, U.S. phone numbers can be dialed with a prefix of "1" for long-distance and international calls. This "1" is referred to as the trunk prefix or country code for the NANP countries, though it is not necessary when dialing a local number within the same area code.
The Federal Communications Commission (FCC) regulates the assignment and use of phone numbers in the U.S. while the North American Numbering Plan Administration (NANPA) oversees the administration of the NANP.
---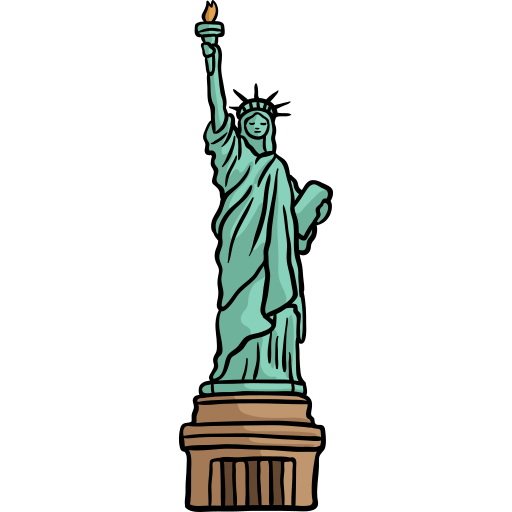 The history behind American phone numbers
---
Early years (1870s-1920s):
In the beginning, telephone exchanges were manual, and operators would connect calls by physically plugging wires into switchboards. Callers would typically request a connection by providing the operator with the name of the person or business they were trying to reach.
Introduction of phone numbers (late 1800s):
As telephone networks grew, it became more difficult to manage connections by name alone. To address this issue, phone numbers were introduced, initially as short strings of digits.
Introduction of the alphanumeric system (1920s-1950s):
In the 1920s, the alphanumeric system was introduced, which consisted of a two or three-letter prefix followed by a four or five-digit number. The prefix represented the name of the local telephone exchange, making it easier for operators and customers to remember.
Development of area codes and the North American Numbering Plan (1947):
To help manage the increasing complexity of the telephone network and to facilitate direct-dial long-distance calling, the North American Numbering Plan (NANP) was introduced in 1947. This plan divided the United States, Canada, and other participating countries into specific numbering regions, assigning each region a three-digit area code. The basic format of a phone number became: Area Code + Central Office (Exchange) Code + Line Number.
Deregulation and the introduction of new area codes (1980s-1990s):
As the telecommunications industry was deregulated in the 1980s and 1990s, competition increased, and new companies entered the market. This led to the introduction of new area codes, and the splitting and overlaying of existing area codes to accommodate demand.
Introduction of toll-free and premium-rate numbers (1960s-present):
Special phone numbers were introduced for toll-free and premium-rate services, such as 1-800 numbers for toll-free calls and 1-900 numbers for premium-rate calls.
Introduction of cell phones and the portability of phone numbers (1990s-present):
With the advent of cellular phones, the demand for phone numbers increased dramatically. In 1996, the Telecommunications Act was enacted, which allowed for number portability between carriers and enabled customers to keep their phone numbers when switching providers.
Expansion of the NANP and the introduction of new codes (2000s-present):
As the number of available phone numbers continued to decrease, new area codes and exchange codes were introduced. In some cases, the introduction of ten-digit dialing for local calls became necessary.
---
Optional cloud phone system
Use our optional cloud PBX-phone system with your US FlyNumber
All our US Numbers are $2.95 a month* - the phone system is an additional $14.95 per month. Total would be $17.95 a month.
This is all you would pay If you were to only use the internet to receive phone calls (for instance a smartphone app or VoIP desktop phone). So you could have 5 different FlyNumbers all going to 10 different SIP accounts (users).
Note: If you make outgoing SIP calls or forward calls to a regular phone number - there is a low per min rate charge depending where you're calling or what phone number you're sending the calls to.
Call Menu | Call Recording | SIP Accounts | Direct Phone Number Forwarding | Time-based routing | Blocklist | Call Queue, and much more
Add Multiple Phone Numbers: Each FlyNumber can have its own call flow, independent of one another or working in tandem.
Let's say you own a business with multiple support numbers, your Philadelphia phone number would go to a IVR/call menu during working east coast hours and the London,UK phone support to the specified agents or vice vera. Endless Scenarios.
---
Buy a U.S. virtual phone number in 3 easy steps
---
Entrepreneurs
Wasn't the internet supposed to make phone calls more affordable?
FlyNumber works great if you just launched a start-up and you're on a shoestring budget
Is your business already off the ground but you'd rather not spend hundreds of dollars a month on phone service?
We come from a "mom and pop" type background, rooted in the international diversity that is NYC. We understand business.
Buy multiple international local phone numbers and manage them all from your FlyNumber account
Family and friends
Stay in touch with family and friends by giving them a phone number "local to them"
For example you have friends or family in the U.S. but now live elsewhere, you can give them a US FlyNumber that forwards directly to your smartphone
Great for expats that want to stay in touch with friends and family from their hometown
Give family members who aren't tech savvy an easy way to reach you no matter where you are
Grandma or Grandpa would love a simple local phone number they can dial that connects them to their loved ones
---
---
Why choose FlyNumber?
You "own" the United States phone number, you can port out if necessary
No obligations | Cancel anytime | Never any hidden fee's | No contracts
You're billed based on the phone number, not users or agents
Detailed call logs that you can export to CSV, we don't retain the logs past a certain point
Logs include multiple responses - Ok (connected), declined, timeout, internal server error, request terminated and more
Set a credit card/Paypal for recurring billing or add funds manually to your prepaid balance
Sign Up Now
---
Return to: All Countries
*Excluding NYC 212/718/Toll-free and only when you answer with VoIP (Reg. phone number forwarding or outgoing calls have an additional low per min rate)